Looks like the sun will be shining this week down in Texas and it's a good thing too. I know many in the surrounding southern states are still reeling from the past two weeks of storms. The good news for my family is that The House at White Rock made it through the flooding. My mom Margaret and dear Aunt Betty grew up in this house that was built in 1931.  They shared a story about one day that they were playing in the creek. Their daddy came rushing down and grabbed them up and threw them up to safety just as a wall of water came rushing down the creek. Here they are in the 1930's about the time of time of that story.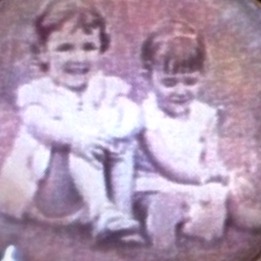 It's amazing how fast the waters can rise even if the storm is up creek. Many times over the years Waller creek has burst its banks up into the yard but my mom say's this is the highest it has been in 81 years (since she was born)!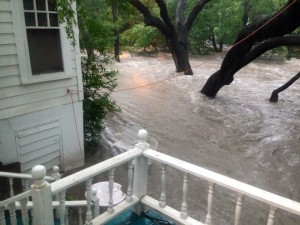 As you can see from the photo above that was taken by my niece Bailey, the water came all the way up and under the house! Surging 2 feet over the walking bridge and up into Eastwood Park. Everything in the picture below was under water in just a few short hours! But the house that love built still remains intact. It is really incredible that in just a few days the creek settles back down into its normal tranquil setting. I am forever grateful that my folks were spared the horror of loosing their home like so may families have from the recent rampage of bad weather. It has caused me to reflect on my blessings and to say a prayer or two for the many who are still trying to recover.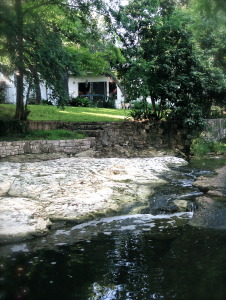 be blessed,
Sandy